Air Channeling & Cooling
Challenge:

 Some combinations and configurations of electrical equipment within an enclosure can create challenges for effectively dissipating heat.
Electrical equipment may not always generate uniform heat loads throughout an enclosure. Some areas within an enclosure may be significantly hotter than others, and general cooling air circulation solutions may not be effective.

Some electrical components contain their own cooling fans and can force cooling air through critical areas while other electrical components rely on general cooling air circulation to dissipate heat.

Some electrical components are more compact than others leaving dead airspace within an enclosure. This may cause general cooling air to by-pass critical areas to be cooled.
Solution:

 Our Engineering & Technical Design Team can develop alternatives to create the effective heat dissipation solutions for your equipment needs.  These solutions include:
Use of double-walled enclosures & double-walled doors where cooling air and exhaust air is routed via side wall/door air plenums, porting cool air in where needed most and exhausting hot air out of the enclosure directly without dumping it into another heat source or allowing it to recirculate.

Use of internal baffling to route cool air in where needed most and to exhaust hot air directly to exhaust vents.

Use of internal or external mounted cooling fans and blower drawers.

Use of externally mounted cooling fins and heat sinks.

Use of optimally sized filter media and louvers on exhaust ports.

Incorporating water cooling systems (chill water) to augment general cooling air.
Punched Louvers / Extruded and Machined Louvers
Electromet offers numerous air channeling and cooling options with our rugged electronic cabinets to provide the customer with tremendous flexibility and performance.
Traditional punched louvers for intake and exhaust air:
Cost-effective

Drip proof to 45 degrees

Can be arranged in a wide array of geometries

Perfect for low to medium air flow requirements.
Extruded, machined louvers for high air flow volumes:
Can be fabricated into virtually any configuration

Provide about 300% more air flow for the same cross-section compared to traditional punched louvers

Reduce air flow noise

Drip proof to 45 degrees

Can accommodate EMI/RFI filters and intake dust filters

Can be hinge-mounted externally to allow filter cleaning without the need to open the cabinet or cross the energized plane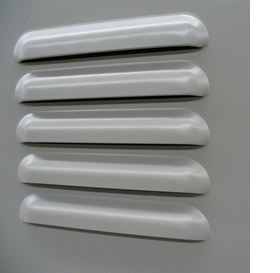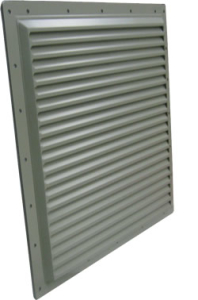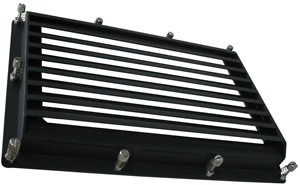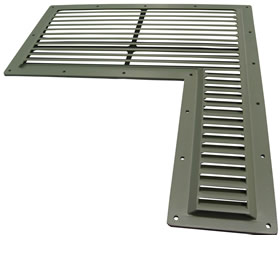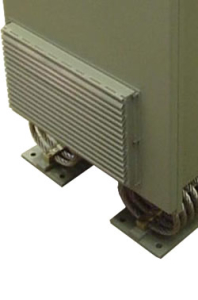 Intake and Exhaust Air Management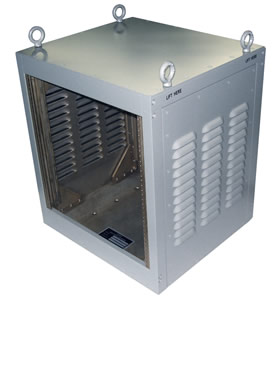 Rear Air Exhaust – External Access Mount
.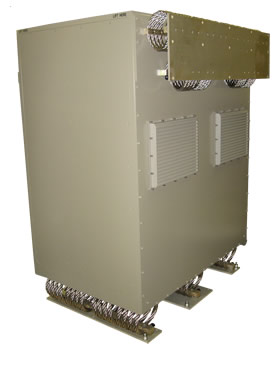 Drip Proof Chimney Air Exhaust through Cabinet Top combined with Rear Air Exhaust with Discharge Fans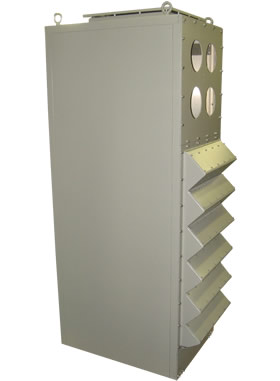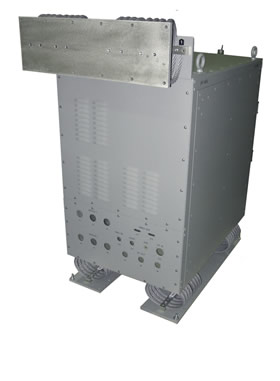 Rear Air Exhaust Incorporated with Isolation Sway Mounting Brace into a Single, Removable Assembly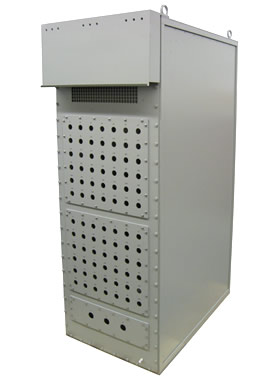 Front Air Exhaust & Bottom Air Exhaust
(photo coming soon) Front Intake Air with EMI Filter but No Drip Proof Required
Rear Air Exhaust with Discharge Fans Located Between Isolation Sway Brace and Razorbacks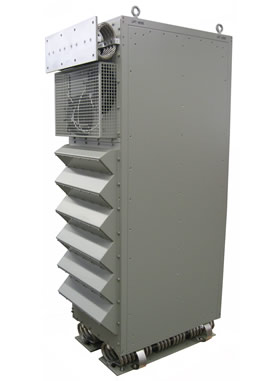 Employ Interstitial Space with Cabinet Side Walls as Air Plenum to Carry/Port Cooling Air Directly onto Hot Components (in this image, combined with Top Exhaust)