Legacy Power Distribution Units (PDUs)
The most commonly requested PDU configurations are shown below. We can easily construct other PDU configurations upon request.

PDUs can be configured in several ways according to the customer's requirements. The following options differentiate one PDU from another:
Choice of toggle switches/fuses or AIRPAX circuit breakers
Number of circuits available
Breakdown of amperage – circuit specific
Choice of with or without rear panels
Choice of installation mounting kit
Choice of specific wiring schematic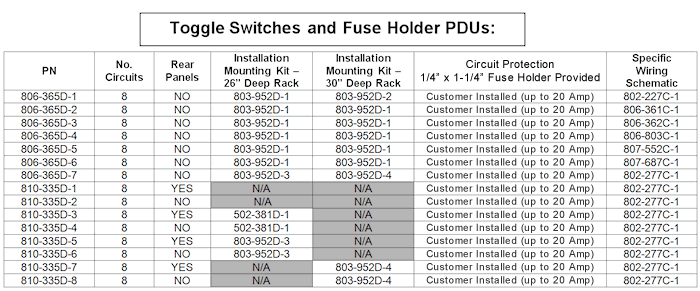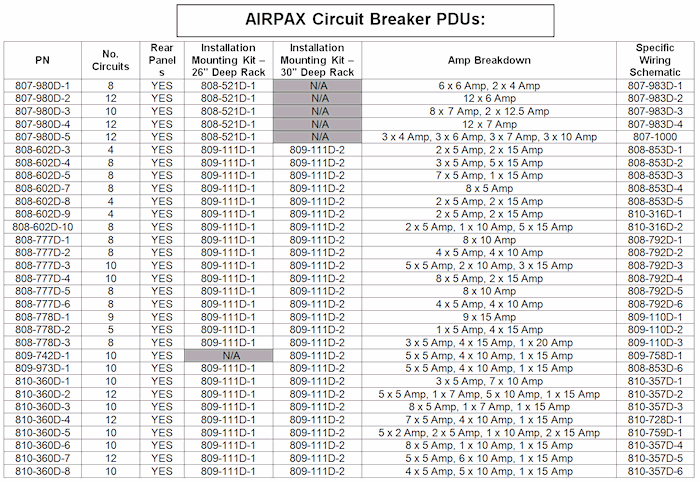 Space Saver PDU
1U Form Factor – Rugged performance in a fraction of the space!

1U PDU designed to mate with standard 19-Inch electronic cabinets, racks and enclosures
Rugged – Meets all requirements of MIL-S-901D (Shock) and MIL-STD-167 (Vibration)
Installs easily using fixed resting angle kits or slide mounting kits – no additional wiring needed
Contains eight, 15 AMP standard electrical receptacles in rear plus one standard power in-let connector

Power is controlled by six, rugged, 15 AMP, Airpax circuit breakers. Two circuit breakers control two receptacles each and four breakers control one receptacle each. Each breaker includes an LED indicator lamp. The PDU includes a power indicator lamp and an hour meter to record run time for preventative maintenance.
| | | |
| --- | --- | --- |
| | 26-Inch deep cabinet | 30-Inch deep cabinet |
| Fixed Installation Kit with PDU | P/N 813-400D-1 | P/N 813-400D-2 |
| Sliding Installation Kit with PDU | P/N 813-401D-1 | P/N 813-401 |
| PDU – stand alone | P/N 813-402D-1 | |
Installation kits can be customized for additional cabinet depths.
Remote Controlled PDU
Mounts in standard 19-Inch equipment rack
Uses readily available COTS components
Remotely controlled operation with independent control of 10 separate relays

Uses Ethernet communications & control
Uses standard web browser interface (No other software required)
Contains built-in web server
Fully password protected set-up and control application
Customizable status and control page (shown below)
Uses 10 UL listed relays
ON/OFF or pulsed relay operation
Pulse timer duration of 100ms to 86,400 Seconds
Compact 2U chassis height
Shock pin supported rear
Up to 10 remotely controlled face mounted circuit breakers at the customers desired amp ratings
Powered breakers also feature local manual override (see photo below)
Blank rear panel for customers customized I/O
Upgradeable to:

100 event scheduler with yearly calendar
Real-time clock – Sync with NTP server
2 discrete inputs
Up to 8 temperature / humidity sensors inputs
Customizable E-mail alerts
Simple BASIC script processing
Device logging