Rugged COTS Ready Enclosures
Survivability — A modular approach to protecting COTS electronics:
Uniform extruded aluminum corners, sections and rails

Standardized high-strength mounting hardware

Proprietary manufacturing techniques and ruggedized internal components

Modular, bolt-together construction – easily disassembled for passage through doors/hatches

Standardized high performance material selection

Standard 19" EIA hole spacing
Rugged and Survivable — Our enclosures have been tested and qualified under the most demanding WORST CASE CONDITIONS:
Freestanding, deck mounted (

without

isolation)

Maximum payload and maximum height (75")

Open racks

without

doors or side panels
Extremely Versatile and Modular —
Our rugged COTS Ready Enclosures are designed to accommodate virtually any combination of height, width, or depth variation. We can modify any of our standard family of COTS cabinets to meet the needs of your specific application

without

extensive redesign.

Reducing enclosure height, using isolation systems, reducing payload to less than maximum, and including doors and side panels all serve to improve the overall survivability and environmental performance of our enclosures.

The commonality of our designs combined with proven worst case testing and qualification provide 100% confidence that our enclosures will exceed your performance requirements.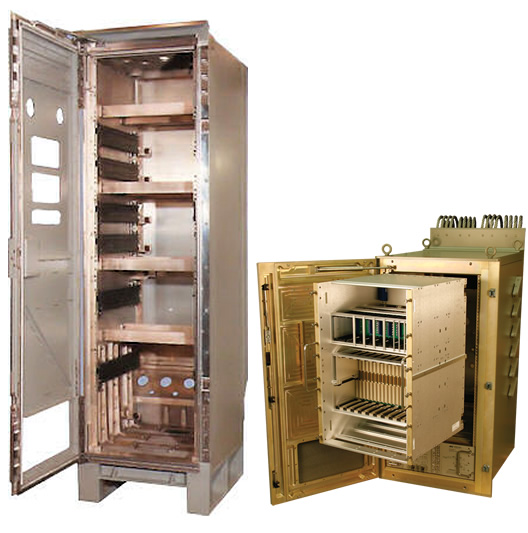 (left) Navy Standard Utility Cabinet, Heavy Duty.
(right) Standard "CY" Configuration with Front Door and Isolation System.