Electromet is pleased to announce the funding of the Electromet Corporation Scholarship/Internship Program at Shippensburg University.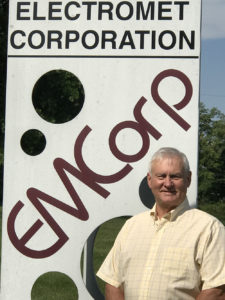 For more than thirty years, David O. McCain III '84M, has worked as president and CEO of Electromet Corporation (EMCorp), a highly successful organization serving many of the largest companies in the Aerospace and Defense Industry, including Lockheed Martin, Raytheon, and Northrop Grumman. Based in Hagerstown, Maryland, the company has grown considerably during that time, both by acquisition and organic growth, while astutely adapting to market and customer needs.
"We started seeing the need for opportunities to develop potential employees for growing the business," David said. "Our operations director, Pam Shatzer, also is a Ship graduate. We know the reputation of the College of Business, so establishing a scholarship with an internship component seemed like a great fit."
Through the internship process, students will be able to apply their knowledge in a business environment while learning about a company that could offer a future career. "Internships provide a valuable, high impact learning experience for business students," said Alix Rouby, director of MBA recruitment, business internships, and entrepreneurial outreach. "We are very grateful to Electromet Corporation for this wonderful opportunity.